الشخصيات، وخصوصا سوير، في أغلب الأحيان يعطي بعضهم البعض ألقاب في Lost. الأشياء والأماكن أيضاً موضوع لألقاب مختلفة أعطيت من قبل الشخصيات. وفيما يلي قائمة لهذه الألقاب.
من قبل الشخصيات
Edit
Alias: Hurley (real name: Hugo Reyes)
Himself: Big Guy ("Numbers"), Duffer ("Solitary"), Fat Guy ("Confidence Man"), Good Old Fun-Time Hurley ("Numbers"), The Master, Something of a Warrior ("All the Best Cowboys Have Daddy Issues")
Aaron: Poor Island Baby ("Everybody Hates Hugo")
Arzt: Arnzt ("Exodus, Part 1")
Ben: Big Ben, Little Ben (contrasting Ben's older and younger selves) ("Whatever Happened, Happened")
Claire: Cute Blonde ("Everybody Hates Hugo")
Desmond: Desmundo ("Flashes Before Your Eyes")
Edward Mars: Johnny Fever ("Tabula Rasa")
General: Dude
Jack: Bro ("The Moth"), Brother ("White Rabbit"), Mr. Haha ("Man of Science, Man of Faith")
Jin: Chinese Dude ("House of the Rising Sun"), Outsider ("...In Translation")
Kate: The Fugitive ("Tabula Rasa")
Miles: Another Sawyer, Angry Chinese Guy ("The Economist")
Mercenaries: Psychos with guns, Rambo guys ("There's No Place Like Home, Parts 2 & 3")
Neil: Frogurt ("The Adventures of Hurley and Frogurt")
Pierre Chang: Douche ("Some Like It Hoth")
Roger Linus: Roger Workman ("Tricia Tanaka Is Dead")
Sawyer: Jethro ("Walkabout"), Steamrolled Harry Potter ("Deus Ex Machina"), Chain Smoking Jackass ("Pilot, Part 2"), Freakin' Redneck Jerk ("Walkabout"), Red... neck... Man ("Tricia Tanaka Is Dead")
Starla: Star-la ("Everybody Hates Hugo")
Walt: Kid-o
Whoever named the Dark Territory: Genius ("Exodus, Part 2")
The Hatch: Burning Death Hole ("Man of Science, Man of Faith")
The Monster: Pissed-Off Giraffe ("Numbers"), Security System That Eats People ("Exodus, Part 2")
Himself: Clown With a Pretty Face That Sings Them ("The Moth")
People:
People in general:
The Others: Perverts, Tribe of Evil Natives (1x11)
Authority figures: Boss (usually with a sarcastic undertone)
Many people as well as various inanimate objects: Son of a bitch (apparently Sawyer's favorite expletive)
Muslims: Islams (1x11)
Women in general: Sweetheart (1x02)
Animals, places, objects, and events:
Non Canon:
Jimmy Kimmel: Dough Boy ("Jimmy Kimmel Live!")
Courteney Cox as Jules Cobb from Cougar Town: Kitten ("ABC House Promo")
من قبل المشاهدين
Edit
من قبل الطاقم
Edit
الممثلين: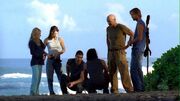 The "A-Team" is a fan term for the Lost characters who most frequently go on expeditions and/or participate in offensive or defensive strikes against the Others. The composition of the "A-Team" is not fixed, but generally includes:
المراجع في Lost
Edit
المحاكاة الساخرة على YouTube:
Edit
شخصيات لم ترى
Edit
مولد ألقاب سوير
Edit
هناك ميزّة على موقع ABC.com الذي يعطي ألقاب إلى المستخدمين مستند على سلسلة من الأسئلة. هذه قائمة الألقاب التي أعطيت:
Big Bad Wolf
Chewie
Dr. Giggles
Ferdinand
Freebird
Grimace
Hawking
Lightbulb
Pippi Longstocking
Prince Charles
Sugarpop
Tinkerbell
Whitesnake
Whiteout
شاهد أيضاً
Edit
روابط خارجية
Edit
Ad blocker interference detected!
Wikia is a free-to-use site that makes money from advertising. We have a modified experience for viewers using ad blockers

Wikia is not accessible if you've made further modifications. Remove the custom ad blocker rule(s) and the page will load as expected.